Today, NVIDIA released a new Game Ready driver (546.01, download here or via GeForce Experience) for its GeForce GPUs, optimized for Call of Duty: Modern Warfare III ahead of the campaign early access scheduled for November 2nd.
As promised at this year's Gamescom, Call of Duty: Modern Warfare III will support not only DLSS 2 (Super Resolution) but also DLSS 3 (Frame Generation) and DLAA (Deep Learning Anti-Aliasing). Of course, Reflex is available, too, to lower latency.
Marc-Alexandre Milot, Design Director at Beenox, stated:
Every frame of action counts in Call of Duty. Once again, NVIDIA introduces major innovations with DLSS 3 Frame Generation. Along with DLSS Super Resolution and Reflex, it allows us to bring faster, smoother, and visually impressive gameplay to the PC version of Call of Duty: Modern Warfare III.
The performance gains enabled by DLSS 3 (Frame Generation) aren't that great, though. According to NVIDIA, users can expect an average 1.8x performance increase at 4K with maxed settings, and that includes the uplift brought by DLSS 2 (Super Resolution). As the resolution goes down, the average uplift decreases even further: 1.6x at 1440p resolution and just 1.5x at 1080p (FullHD) resolution.
The best use case is probably to combine DLAA with Frame Generation to achieve optimal image fidelity and smooth frame rate, though that's something not many will do in a competitive shooter like Call of Duty: Modern Warfare III. Using Frame Generation will always add latency versus just using Super Resolution with Reflex.
Anyway, this GeForce Game Ready driver also delivers optimizations for Desynced, Jusant, and RoboCop: Rogue City. Desynced will be updated on November 16th with NVIDIA DLSS 3 and Reflex, while Jusant is out now (available on Game Pass, too) with NVIDIA DLSS 3 and Reflex. In DONTNOD's UE5-powered game, DLSS bumps performance by 2.6x on average at 4K and max settings.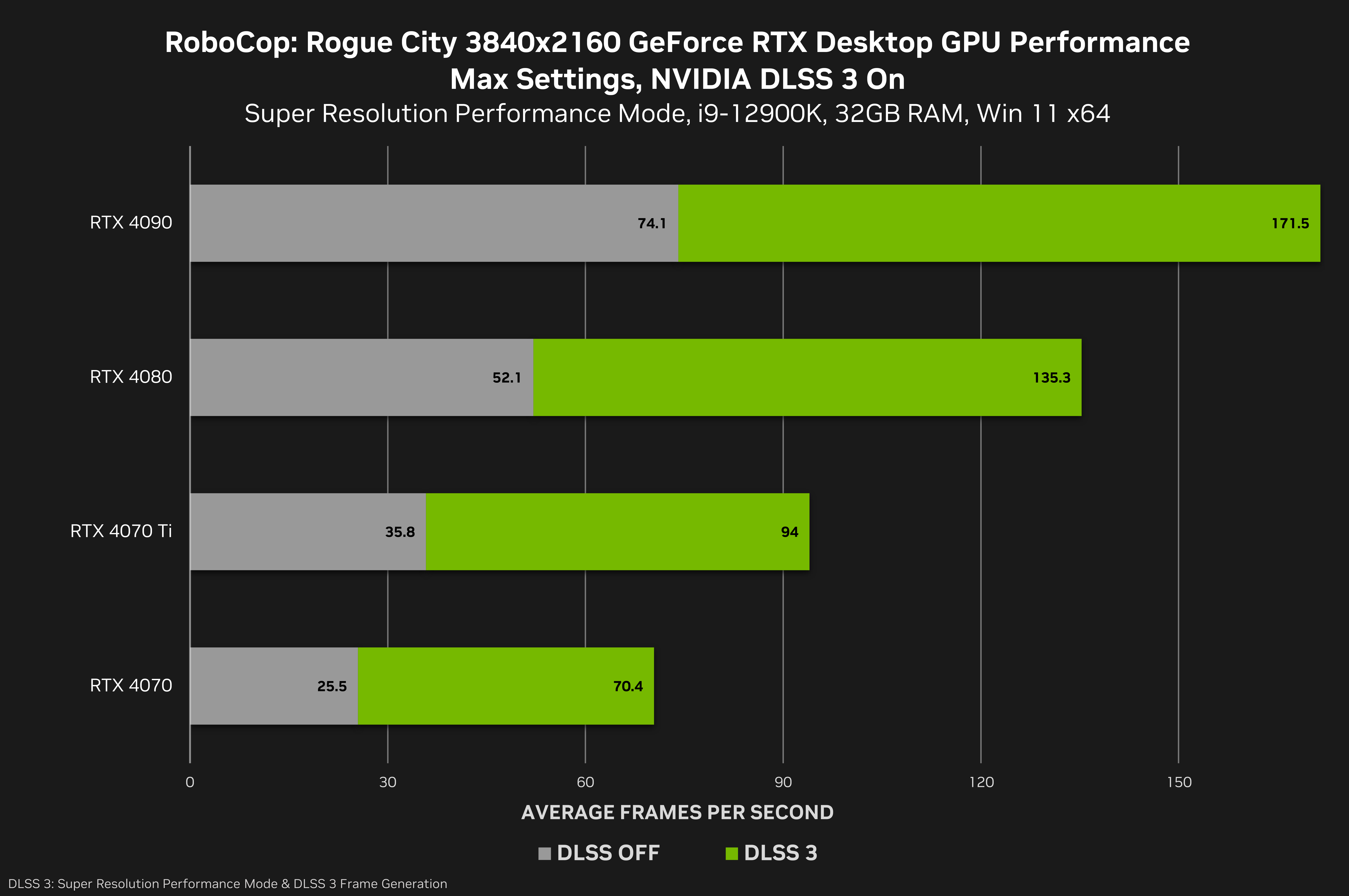 The same performance boost can be expected in RoboCop: Rogue City, which also supports DLSS 3 and Reflex as well as DLAA when it launches on November 2nd. Another game made with Unreal Engine 5, Croteam's The Talos Principle 2, is set to launch on the same day with DLSS 3 + Reflex and an estimated DLSS uplift of 2.3x at 4K resolution.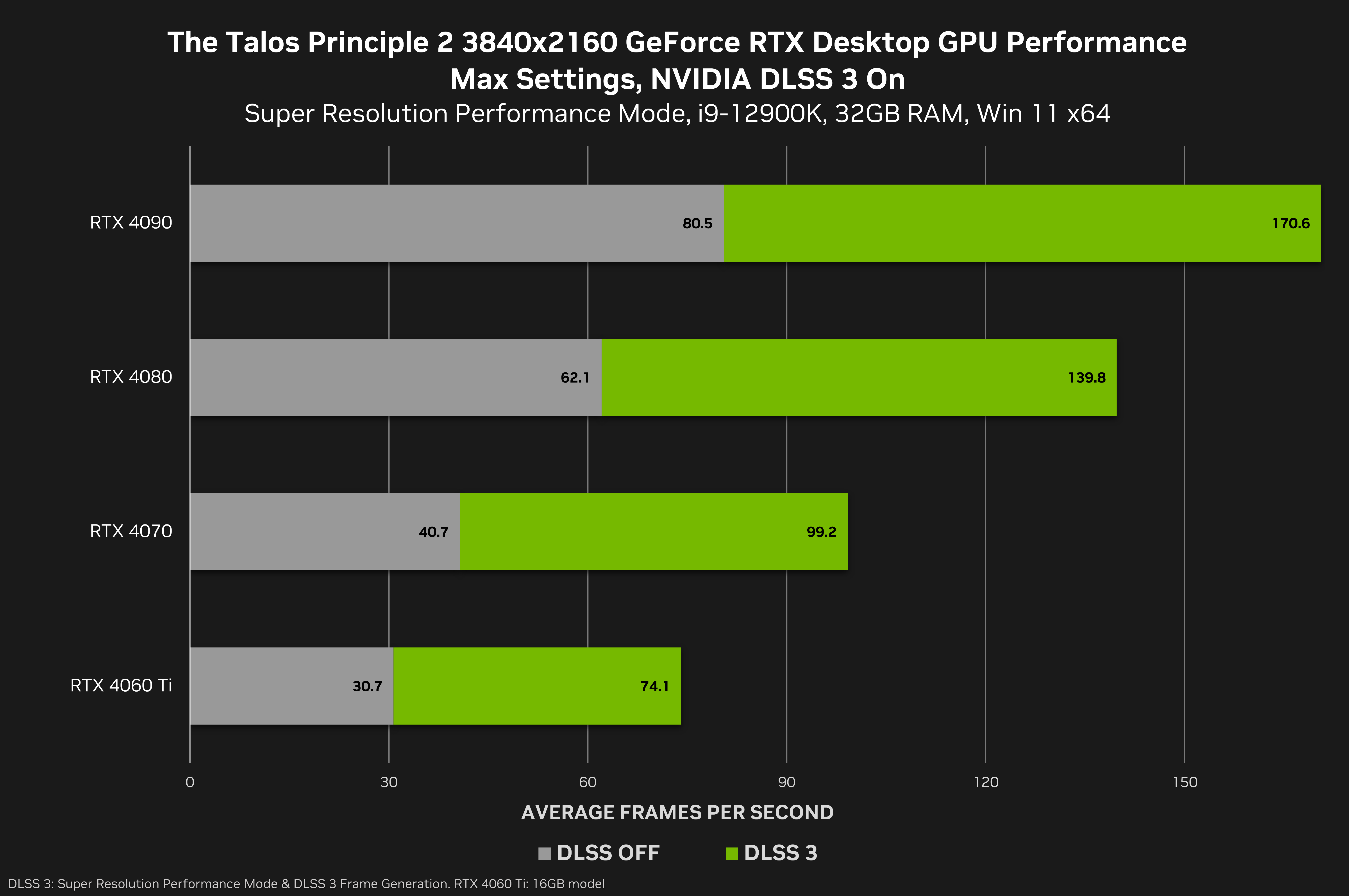 EA Sports WRC is set to debut on November 3rd (though early access begins today) with DLSS 2 support that bumps performance by 90% at 4K when using an RTX 40 graphics card, according to NVIDIA.
Today's Game Ready driver adds the following monitors to the official G-Sync Compatible list:
ACER X45
AOC AG456UCZD
AOC U27G3XM
Galax Q3222SUC
LG 32GR75Q
MSI MPG341QR
Lastly, as revealed in the release notes, the driver fixes the following bugs:
[Halo Infinite] Increased loading times after updating to driver 545.84
[Halo Infinite] Significant performance drop is observed on Maxwell-based GPUs